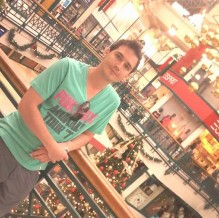 Volunteer since
2017
Speaks
Danish, English, Spanish, Portuguese
Spanish (of course), and English... A+ grade. Portuguese, I can do it.. Danish not so much... Just starting, but hoping to get good at it.
Last seen online
12 Months ago
About me
I was born and raised in Mendoza province, Argentina. I got my first paid job at age of 15, just because I didn't want to depend on my parents to buy the cool stuff that I wanted at that moment. After that, I've done many things and worked in many places, learning a lot of useful skills and knowing many people.
After I decided what I wanted to do for a living, I started university in order to get my degree in Software Engineering. I'm now taking a break from college, and that's why I figured that it would be a good time to get out there and explore new places, know new people and new adventures.
Preferred location
I'm planning on staying in Denmark for almost a year with a working holiday visa. My main goal on volunteering is to know different people and ways of living. I'd like to stay at least for a month or two in the same place, to really know what is it like to live in a different country, culture and costumes.
Skills
My skill set is pretty wide:
- From a construction perspective, I can do anything from changing a light bulb, to mount a dry-construction wall. I know how to use many hand and power tools, build and fix many things (such as wooden chairs, little furniture, painting houses).
- Regarding "services" topic, I've worked in restaurants as a dishwasher first, then as a waiter and in some cases as a cook. Worked for a while at a local hostel in my hometown, doing whatever was needed to be done.
- From time to time, I worked as a private tutor teaching English to elementary school kids.
- For the last two years I've been working as a Quality Assurance Engineer in a software factory, offering offshore software solutions.

Additional info
I am a smoker, I have a drivers license, I am not a vegetarian and I have no allergies.
I'm a smoker... And hopefully during my journey I'll find that one thing that will force me to quit