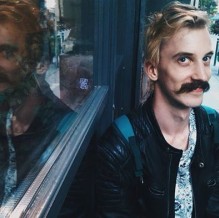 Volunteer since
2017
Speaks
English, Hungarian
I could understand some German, but that doesn't really count.
Last seen online
3 Weeks ago
About me
Well hello!
I'm Bálint from Budapest, Hungary. (it is the Hungarian version of Valentine)
After graduation I studied business and management at a university, then went to a hairdressing school, so that's a skill. Not I'm back to uni to study international studies which is a mixture of law, business and sociology. Bit boring, but helps me on my jouney of "who I want to be".
Now my special interests are anti-corruption, transparency, global inequality. Stuff like that. I'm in a special status, because money doesn't motivate me. I'm trying to get impulses from experiences which doesn't focus on carreer or money.
Also I'm a people person. I always sorrounded myself with interesting and fun people. I like fun. Hope my to-be-host likes it too hehe.
I'm not really sure what else to write here so this will be it.
Have a nice day!

Preferred location
I dont have a specific destination in my mind.
Wherever I can get is somewhere I'm willing to go, if we can find a common language(;
Skills
I come from a wealthy family and stuff always got done for me. Now I want to give back.
I have many hobbies, but I'm not a professional in anything really. Fast learner though(;
Additional info
I am not a smoker, I have a drivers license, I am not a vegetarian and I have no allergies.