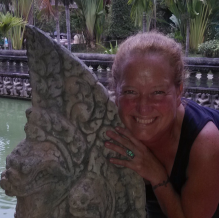 Volunteer since
2017
Speaks
English
I understand some Spanish and speak enough to function.
Last seen online
4 Weeks ago
About me
I love connecting with people from all walks of life, all over the World. I enjoy nature, adventure, and traveling. I am easy going, relaxed, and fun loving.
Preferred location
I am a retired K-12 teacher from the US traveling all over South America, living out of my backpack with no fixed schedule. I grew up around the world so, I feel at home most anywhere and love experiencing different cultures. Everywhere I go, I enjoy meeting people, sharing stories, music and food. I am very flexible, patient, kind, and can speak some Spanish.
Let me know if I can help!
Skills
I have a Masters degree in Education, five certifications, and 28 years experience. Over the last two years, I taught English in China, Malaysia, Cambodia, and Ecuador. I love to teach, to create innovative/effective lessons and believe strongly that education should be available to everyone!
Additional info
I am not a smoker, don't have a drivers license, I am not a vegetarian and I have no allergies.
I eat almost everything and love to cook. I do smoke and drink a bit.