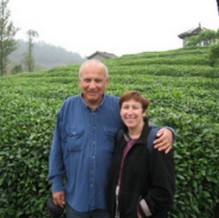 Volunteer since
2016
Speaks
Chinese, English, French, Hebrew, Spanish
We learnt some Chinese when we were working there for 3 years, and we love to practise it but we are rapidly forgetting it.
Last seen online
Yesterday
About me
My husband and I are very funloving, open people. WE are keen on travel (mostly) and also music, languages, theatre, art. We are easy to get along with and not fussy.
Preferred location
My husband and I are a retired couple. I am an English teacher and we love to travel to different countries and be involved with the communities there. We taught English for 3 years in China, and also in Sri Lanka. We are now looking for exciting new destinations.
Skills
I am a qualified, experienced English teacher. My husband is a retired civil servant who was the director of National Volunteering services. WE are most interested to volunteer somewhere where we can get to know local people and be involved in the community, and not to live as tourists. We would prefer a reasonable level of comfort and privacy in accommodations, and we are prepared to contribute to that.
Additional info
I am not a smoker, I have a drivers license, I am not a vegetarian and I have no allergies.
We are easy going and unfussy. We prefer no meat but are very flexible (except about smoking).