About the workproject
We need 5 volunteers
In 2012 me and my wife have bought a former coal mine estate on Mallorca, size: 3 hectares. There are still some of the old buildings on the estate like the storage building for the coal and the mine tower. There are 4 houses which all used to have their own specific purpose till the mine closed in 1986. We are transforming the estate with some quite drastically changes like: creating a vineyard, a lake, a waterway, changing many boring pine trees for more interesting trees - preferably subtropical producing fruits or nuts. Right now the vineyard is being created, which involves a lot of work. There is many bedrock - or as we call it 'badrock' which needed to be removed. I guess we have a mountain of over 50 tons of this stuff right now.
My project blog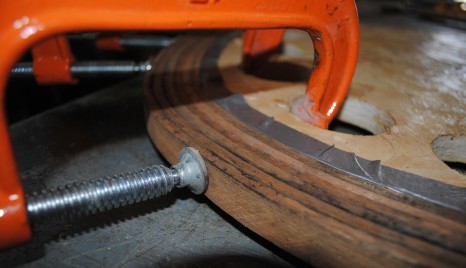 Canoe project: milling and bending strips
July 31, 2017
Ceder wood is traditionally the wood to use for building canoes. It's strong enough, bends well, it's not too heavy and it's relatively cheap. But... here on Mallorca the cedar wood is very expensive. So after evaluating all types of wood which are not really knotty we chose Iroko wood, which is twice as cheap as cedar although 20% heavier. Hopefully we made the right choice, the future will prove it. I had to let go my desire to build the canoe purely with Mallorquin grown wood. The pine trees which we cut and milled on our land are far too notty and the strips will likely break when bended. For the future there may be hope that it is possible to use Mallorca grown wood: Paulownia wood (Latin name: Paulownia Tomentosa, this super fast growing Asian wood). In just a few years these trees grow to a height of 10 meter, the trunk is very straight and normally the side growing branches are cut of in a plantation, encouraging vertical growth. The wood is very light and does not contain any knots and the bending characteristics seem to be good according to various blogs and forums of canoe and kayak builders. The fact that the wood is weaker than cedar is not really a problem, the strength of the boat is coming from the epoxy resin and fibreglass fabric. The price of this wood should be just a fraction of most other suitable types of wood. There are a few plantations on Mallorca, which are mainly being grown for biomass, so to be burned, can you believe it! Such beautiful wood, straight as an arrow, no knots, no cracks, no drying deformation and then chip it and burn it for heat, unbelievable. Anywaist... let's not drift too far from the main topic. Milling the strips went rather well although the Iroko wood was not really straight and following this curve on the saw table did not always go perfectly well. Bending the strips for the inner and outer stems (our type of canoe is symmetric) did not go well the first time. Or better: gluing the strips afterwards went wrong, the strips cracked. We used the steam method but maybe we should have steamed in longer. The second time I first soaked 6 strips of 1/4" x 3/4" (3 strips for the inner stem and 3 for the outer stem) for a day in a bathtub and then steamed it for half an hour. When bending the strips around the form of the stem went much smoother, see also one of the photos attached.