About the workproject
We need 5 volunteers
In 2012 me and my wife have bought a former coal mine estate on Mallorca, size: 3 hectares. There are still some of the old buildings on the estate like the storage building for the coal and the mine tower. There are 4 houses which all used to have their own specific purpose till the mine closed in 1986. We are transforming the estate with some quite drastically changes like: creating a vineyard, a lake, a waterway, changing many boring pine trees for more interesting trees - preferably subtropical producing fruits or nuts. Right now the vineyard is being created, which involves a lot of work. There is many bedrock - or as we call it 'badrock' which needed to be removed. I guess we have a mountain of over 50 tons of this stuff right now.
My project blog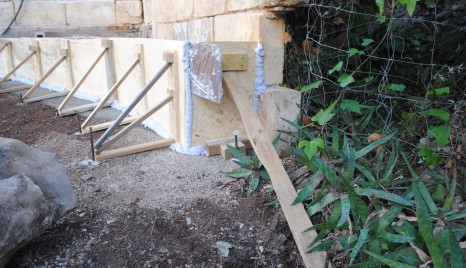 Construction around the vinoteca
November 19, 2017
The vinoteca - so the place where we make and store the wine - is as good as ready and functional. The roof has been completed a while ago - which also deserves a separate post I believe. But now the focus is on the area around the vinoteca. To step in the building it's 1 step of about 40 centimeter, which is not really comfortable. On the right side of the vinoteca used to be some sort of generator we believe looking at the size of a solid concrete base. We decided to really complete the whole area and then move on to another project. So we are creating a kind of flat platform which could be used as a terrace. Ans has the idea to place a stone cruncher on their which was used to crush big chunks of coal. This large iron industrial heritage icon would do well I guess, but you can't use it anymore as a small terrace. We will see... as with many things the ideas materialize always, give it some time. This post is to be continued, but now it's time to kick some ass and start collecting some filling material, which is rubble, pieces of piedra, concrete, rocks and other stuff. The terrace platform is not an overhanging balcony so it does not have to be superstrong.