About the experience
We can host up to 10 travelers
200 hour yoga teacher training in rishikesh, India registered with Yoga Alliance, USA, based on Hatha and Ashtanga Yoga organized by affiliated yoga schools of Rishikesh Yog Peeth – RYS 200, 300 & 500.
Fundamentally, these Courses are compiled by our Yoga Masters as a combination of traditional Concepts with modern perspectives and understandings, which includes practical as well as theoretical aspects of yoga into the consideration. Most of the teaching comes from the roots, Hatha and Ashtanga yoga but explained is such a way, which becomes easily accessible to all, from beginners to advance level. The aim and objective of these yoga teacher training courses primarily to provide a strong foundational understanding of yoga along with the ethics of living a yoga life with correct postural alignment, breath regulation, ways of concentration - meditation and clarity regarding the philosophy of Yogic life.

All these tools allow the practitioners to gain a better understanding with an enhanced responsiveness regarding the situations and events of their lives, not only it promotes a strong self-practice of yoga discipline but at the same time gives a refined sense of self-expression as a yoga teacher to teach the same confidently to others. Rishikesh Yogpeeth conducts these courses throughout the year on different locations inside and outside of India. Duration of these courses varies from 4 weeks to 10 weeks, and course fee includes Accommodation, three meals a Day and few excursions on Days off.
My project blog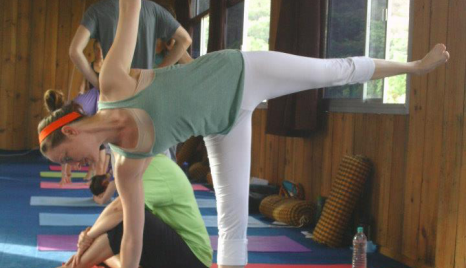 200 hour yoga teacher training in rishikesh
January 10, 2018
200 hour yoga teacher training in rishikesh, India registered with Yoga Alliance, USA, based on Hatha and Ashtanga Yoga organized by affiliated yoga schools of Rishikesh Yog Peeth - RYS 200, 300 & 500. This 200 hours Teacher Training course of yoga will provide you new insights in all areas of Yogic practices and also present you an opportunity to become a Registered Yoga Instructor - RYT 200. 200-Hour Yoga Teacher Training India - Overview 200-Hour Yoga Teacher Training India - Overview » Internationally certified yoga teacher training in India registered with Yoga Alliance, USA. » Yoga teacher training in Rishikesh, also known as yoga capital of the world. » Yoga teacher training course specially designed for beginners, intermediate and advanced level yoga students. » An intensive yoga teacher training course taught by yoga teachers who are firmly rooted in tradition yet contemporary in their vision & communication. » Inexpensive yoga teacher training in India - US$ 1450 including food & accommodation (private room with attached bath). » Residential facility midst ashram surroundings yet not far from the city. » Loving and caring support team. » Opportunity to experience Indian culture and tradition. Organizers Organisation: Rishikesh Yog Peeth Krishna Cottage, Swarg Ashram, Rishikesh - 249204 (India) Email: info@rishikeshyogpeeth.com Ph. +91-7830201040 Organiser Website: https://www.rishikeshyogpeeth.com