About the workproject
We need 7 volunteers
We are an English couple managing the Finca in Costa Rica. The farm house and Finca are in the Costa Rican countryside of Guanacaste, with amazing views. This is our paradise where we enjoy living in nature and working on the land, surrounded by the spectacular flora and Fauna. We want to connect with motivated people who want to live and take on projects on a farm in the middle of mountains surrounded by nature & fresh air.

We promote cultural exchange, sensitivity to nature and love for a healthy-natural-farm lifestyle.

The Finca is a 4 hour bus ride from San Jose International airport or 2.5 hours from Liberia airport.

We are willing to take workawayers for ONE MONTH OR MORE ONLY. If you are coming to Costa Rica for ONE MONTH OR MORE please contact us and we will be happy to answer any additional questions you may have.

At the moment we are mainly looking for Construction people and Spanish Teachers to help us communicate better with the local community.

Construction Workers
We would love to hear from you if you are motivated to work hard and work as part of a team on small and large projects.

Spanish Linguists
We would love to hear from you if Spanish is your first language and you have patients to teach two beginners. We are also looking for help around the house such as cleaning and help with cooking for the other volunteers. Teaching practice would be 1-2 hours per day with the rest of the time being occupied maintaining the house and grounds.
My project blog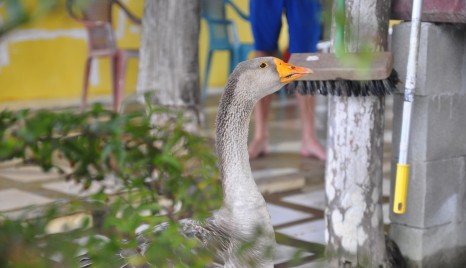 Gerry the Goose/Dog
October 21, 2017
After
almost 3 years of hard work on the finca, our main man Manuel decided that it was time to move on and concentrate on his Orange Finca full time. We wish him all the best of luck but will miss him terribly. He left on a
particularly rainy day which reflected the mood all round, but we will see him
again, although we don't know where or when. – Update – we passed him on the
road he was as usual working hard with a machete cutting down the weeds that
had grown around his house. On leaving day Manuel came to the house with a freshly plucked chicken, a goose and 5 chickens (unplucked and living). As usual we were aghast, what do we do with a
goose Manuel? He threw some corn on the floor and said, that's about it!! And wandered back down the hill to finish clearing out his house. Myself and Nick were home alone as our volunteers had gone away for the weekend to the nearby Samera, which I am told is very lovely.Immediately
the goose started to poop all around the veranda, and I don't mean one or two
poops, these were every where, every other step was accompanied with a poop. On
the plus side he seemed pretty friendly and took to Nick as though he was a mother
goose, literally every step Nick takes, the goose takes two slappy steps behind him. You can hear them coming a mile
off, scuff scuff go Nicks flip flops and then slap slap slap slap comes Gerry waddling behind him. Oh yea by the way
he is called Gerry, we named him Gemma initially before finding out she was actually a he. He maybe a little confused but I think he is getting the hang of it.