About the workproject
We need 8 volunteers
Welcome to the best place to meet Korean friends and experience Korean cultures



Hello~ I am Andy, a host of English Cafe in Busan, the best city in Korea.

We are looking for volunteers with following characteristics and skills:

@ Comfortable speaking English and willing to help Korean students improve their English

@ Interested in learning Korean language and experiencing Korean culture

@ Love meeting new friends and interacting with them.

@ Enjoy learning new cultures and sharing their own culture and experiences


We aim to provide a friendly environment in which people from other countries meet Korean friends to share ideas, culture, experience and language. The cafe atmosphere is laid-back and informal as volunteers are not expected to prepare any teaching materials or formal lesson. They help Korean students improve their English with rather moderate conversation. While you are talking with Korean friends, you can help them improve their English with correcting their errors or pronunciation, suggesting good expressions, teaching vocabulary or grammar, and so on.


Community members participate in English conversation meeting maximum for 3 hours a day, 5 days a week in the cafe.
My project blog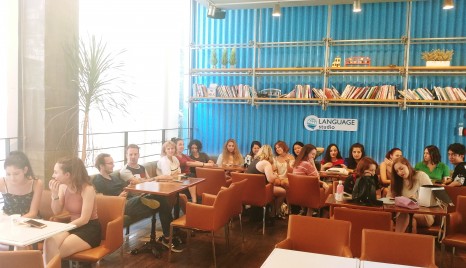 Language-and-Culture-Exchange-Cafe-in-Busan
October 28, 2018
Language-and-Culture-Exchange-Cafe-in-Busan