21 Days Medical and Healthcare Volunteering Project Uganda
February 5, 2020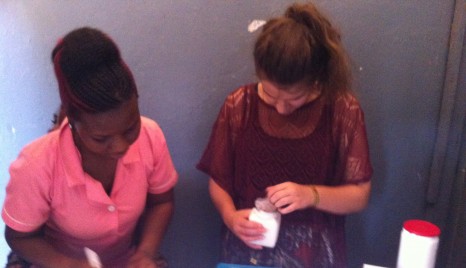 This 21 days volunteering program, will take you to the heart of Uganda where you get involved in meaningful volunteer work. We ask volunteers interested in the Uganda medical and healthcare volunteer work to commit at least three weeks or more in order to ensure a worthwhile experience for both your hosts in Uganda and yourself. But we accept volunteers from a minimum of 7 days to 12 weeks.
The trip starts and ends in Uganda's capital Kampala. You will be based in Mukono or in a rural based program. Mukono is one of the most relaxed and attractive suburbs, east of Kampala (the capital city of Uganda). Mukono is a great place to stay if you want to explore Uganda's fascinating capital city or the adventure capital- Jinja.
Mukono has her own tourist attractions and you will discover many during your humanitarian service placement with us. These tourist attractions include but not limited to:
Mabira Forest which is famous for forest walks, Picnics, cycling trails, ziplining, over 100 Species of moths and 300 bird species. Mabira forest is also popular for its rich on Flora & Fauna
Lake Victoria - Africa's largest lake and second largest fresh-water lake in the world
Sezibwa River – which is believed by Buganda legend to have been born. The river flows into Lake Kyoga. Sezibwa falls offers beautiful scenery for tourists and nature lovers. The site also has a natural forest reserve which is popular for forest trails and nature walks, bird watching with over 100 bird species and wildlife.
Kalagala Falls- one of the most beautiful, thundering falls and naturally endowed waterfalls in the country. Kalagala Falls are found along the Victoria Nile within Kalagala village, Kangulumira sub-county in Kayunga district (formerly part of Mukono district)
VOLUNTEER WORK IN UGANDA
Day 1-2:Arrival and Orientation
Our Coordinator will arrange a pickup for you from the airport in Entebbe at agreed time and they will drive you to the volunteer home outskirts of Kampala. Orientation and Placement will be done the next day.
On the second day, our Coordinator will give an orientation about the project you will be working on. You will be working with the Healthcare Development program while learning about the culture and customs of the local Ugandan people.
Day 3-20:Volunteer Work
THE PROGRAM IN MUKONO:
The Uganda Medical volunteering project offers skilled medical professionals with the chance to experience a new culture and working environment, while learning and developing their specialized medical knowledge.
The Uganda medical volunteering project run by Go Volunteer Africa is best suited to professional medical and medical students aiming to gain valuable experience in a medical hospital setting and learning more about tropical diseases.
Medical students gain practical medical and nursing experience as interns with our Uganda Medical internship placements. Go Volunteer Africa is offering you the opportunity that will shoot your career to the moon by doing your medical or nursing internship in Uganda. This is a very unique opportunity to gain first-hand experience working in Uganda. You'll also get to broaden your understanding of healthcare issues from another part of the world.
Your exact role within the hospital or clinic will be determined by your level of medical experience as well as by the enthusiasm and effort which you show to the local staff. Pre-university interns usually start by observing the doctors and nurses. You may find more practical opportunities arise once you get to know the local staff and if you can demonstrate a good understanding of local medical conditions.
Go Volunteer Africa strives to improve the health conditions of children and adults in poor communities of Uganda through various medical and healthcare intervention projects including but not limited to Village Health Talks Outreaches (VHTO), Mobile Clinics Camps and so many other interventions.
Go Volunteer Africa supports small community health centers in rural and hard to reach areas and also has a standing partnership with large government hospitals in Uganda. We offer short and long term medical volunteering placements in hospitals, clinics, outreach centres and mobile clinics.
Placements are available in areas of Dentistry, HIV & AIDS, Medicine, Midwifery, Nursing, Pharmacy, Physiotherapy, Psychology, Radiography and Veterinary, which ever you choose you will be provided with the best tools so that you can do your job as best as possible.
As in many other African countries, healthcare is neither easily accessible nor affordable for many people living in the rural and semi-urban areas. People in villages and semi-urban areas face health concerns that diminish their ability to improve their lives whereas the quality of health influences the quality of life for any individual and subsequently impact development for a community. HIV/AIDS, Malaria, childhood illnesses such as measles, tetanus, parasitic diseases and malnutrition devastate communities.
If you are currently studying or recently graduated we have medical volunteering projects and internships which will boost your resume / CV and allow you to help people in the developing world. Lots of people apply every year and this Uganda medical volunteering project is perfect if you are planning a career in medical services.
Volunteers with professional credentials, or those currently enrolled in medical/nursing school are welcome. The type of hands on work you will be allocated will depend to an extent on your own abilities and capabilities, which is understandable given that you will be dealing with patient health and safety.
Volunteers/Interns are not allowed to perform the major identification or surgery works. Most of the time volunteers help doctors or work as an assistant to doctors. You will be involved in aspects of the day-to-day running of the hospitals, observing or directly assisting, where possible. You can help out in simple but practical ways, vastly increasing your own knowledge and understanding of medical practice.
Volunteers measure BP, temperature, height, weight assist doctors and medical staffs with health center tasks. You also help in health camps (if any), distribute medicines, provide tips to patients on health, nutrition and sanitation and counseling patients, and involve yourself in the treatment for minor injuries or wounds and keeping patient records, the facilities where volunteers will be working are equipped with all the essentials.
Facilities within the hospitals and clinics are basic and treatments are sometimes not of the standard we would expect in developed world. You should be prepared to see some shocking cases, and try not to get emotionally involved with the patients. Your working hours will usually be decided on a weekly basis and most volunteers work from Monday to Friday and have the weekends free.
There is an obvious lack of manpower and resources in the local hospitals, which are located in the outer city areas and sub-urban areas. Since many health centers lack modern facilities, or have broken equipment and lack of staff, the placements are very challenging. Volunteers need to bring their own medical equipment, gloves, lab coat, medical scrubs and appropriate shoes.
On the weekends you are encouraged to explore the country with friends you make on the program, and our representatives are available to give travel advice and make bookings for you.
Day 21– Good bye party/ Barbecue night
Your friends at the program will organize a party for you and barbecue night to thank you for the service and your contribution.
PROGRAM DETAILS:
Availability: Project opens all year round
Age Limits: Minimum 18yrs or older for solo travelers.
Program Dates: 2nd or 16th of the month
Arrival dates: 1st or 15th of the month
Working Days: Monday – Friday – 5 days a week, 3-5 hours in a day
Weekends: Safaris & Tours arranged at very friendly fees
Accommodation: Volunteer Guest House (Host Family can be arranged for those interested in deeper culture immersion experience)
Meals: Breakfast, lunch and dinner daily
PLACEMENT BOOKING COSTS:
After application process and acceptance into the program, you will be required to pay a placement booking and confirmation administration fee ofUSD$260. This is charged above the program fee quoted which is paid in cash upon arrival to your host country.
The placement booking fee covers:Administration Costs, Placement Booking & Confirmation,Pre-departure support & documentation, 24-hour international HQ back-up
Program Duration Fees:
· 1 week $460
· 2 weeks $560
· 3 weeks $660
· 4 weeks $760
· 5 weeks $860
· 6 weeks $960
· 7 weeks $1060
· 8 weeks $1160
· 9 weeks $1260
· 10 weeks $1360
· Extra week + $100
The program fee covers the following.
ü Project orientation
ü Accommodation
ü Three meals a day
ü Airport pickup
ü In-country emergency support
The program fees exclude the following: Visas, flights, insurance, airport drop-off and personal expenses.
To Get Started
Fill Volunteer Application Form link below: