Free Volunteer Programs in Uganda – Ssamba Foundation
August 30, 2021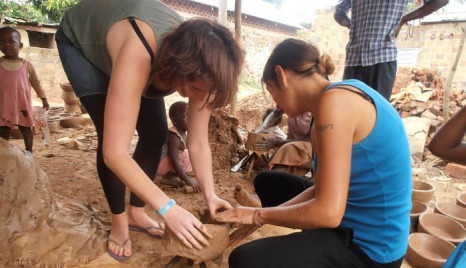 Ssamba Foundation is a registered non-profit community development organization founded by Hon. Isaac Ssamba in Mukono, Uganda. Operating in Mukono district, we manage a wide range of sustainable development and humanitarian projects since 2006.
Ssamba Foundation addresses some of the most pervasive problems in rural Uganda, including poor healthcare systems, hunger, poor education system, access to clean drinking water, environment degradation and extreme poverty.
In addition, the foundation focuses on empowering the youth of Uganda through leadership and skills training. The organization is founded on the principles that our common humanity is more important than our individual differences. We therefore operate on a non-political, non-denominational, and non-sectarian basis, welcoming each and every Ugandan in need.
FREE VOLUNTEER PROGRAMS AND PROJECTS IN UGANDA
Volunteering with Ssamba Foundation in Mukono district of Uganda is 100% free. Although you are responsible for your flight, visas and living costs, there is no program or weekly fees to get involved. We appreciate your time and allow you to use your compassion and skills to help make the world a better place at no cost to you!
At Ssamba Foundation, the volunteer program options available are endless – we operate and support local schools, a women microfinance project, a community health clinic and social community center.
Volunteer Work with Children:
You can spend time interacting with children and encouraging their social and emotional development. You can focus on music, recreation, art, or other special areas of talent you have. If you are compassionate, creative, and love working with children, this is the program for you.
Volunteer Work at Micro-finance Project:
You can spend your time working with women at our microfinance project. There are many options for this program that can revolve around your level of knowledge about finance and business.
Volunteer Work at Community Health Clinic:
If you are interested in the health field, you can work in our community health clinic or one of our local partner hospitals. We also arrange a number of healthcare outreaches in rural communities of Mukono district.
Teaching/ education Volunteer Work:
Work with our local teachers in your field of expertise to help students learn the skills and information they need to succeed. You will be working in one of our schools, a primary and secondary school.
Volunteer Work at a construction/building project:
Focus on a building project based on your area of expertise, or work on one of the existing projects that needs an extra set of hands! This is a great opportunity to work with local adults and gives you the chance to truly see the impact you will leave behind. Past volunteers have built classrooms, health clinics, or even homes for elderly village members.
Social Work Volunteer Work:
Work in areas like sports program, music and arts, in villages across the Mukono district and beyond. This program has many options and often times volunteers end up creating a custom project based on their own ideas.
FOR HOW LONG CAN VOLUNTEERS STAY?
We ask volunteers interested in the Uganda volunteer work to commit at least 4 weeks in order to ensure a worthwhile experience. But we accept volunteers from a minimum of 1 week' duration.
We want every volunteer to feel that their time in Uganda was put to good use and that they had adequate time to make an impact. The preferred length of trip for a volunteer's first visit is 4 -12 weeks. Although we do not strictly prohibit shorter stays, we do request that our volunteers are able to offer at least four weeks of voluntary services.
We understand that it can sometimes be difficult for doctors, to take a full month off. Therefore, doctors can come for a three-week period.
WHAT DO WE OFFER TO VOLUNTEERS?
The Volunteering Program in Uganda offered by Ssamba Foundation is completely free. Volunteers receive 3 meals, accommodation, airport pickup, and an orientation briefing when they arrive.
Volunteering in Uganda with Ssamba Foundation provides a unique deeper cultural experience: you will have the opportunity to work with a Ugandan and International team, and have the opportunity of creating your own projects.
Benefits of Volunteering with Ssamba Foundation:
Volunteers are always welcome at Ssamba Foundation either for short-term or long-term projects. We want to deliver an experience to enjoy Uganda by living, working and making an impact with us. In exchange for your skills, donation and help, you get the following:
Pre-Departure Handbook (Everything you need to know about Uganda)
We shall pick you up from Entebbe International airport (Pick Up only)
Accommodation throughout your stay (Maximum stay is4 weeks for free)
Shared bedroom with other-same sex volunteers (separate beds)
Blanket, Pillows and treated mosquito net
Limited Wi-Fi Access at house (Please feel free to bring your laptop)
3 delicious local meals for your entire duration
24/7 In country Support
You can stay with us for up to 3 months in Uganda (on case by case basis)
Deeper culture immersion experience with founder's family
Discounted tours, safaris and events
Work and life experience
The opportunity to help others and lifetime friends
Certificate of Appreciation at the end of your stay
What we DON'Toffer:
Flight Tickets
Visas
Travel insurance
Vaccinations
Laundry service in town/or house (at volunteer's cost)
Toiletries (soaps, shampoos and others) are not provided.
Personal expenses (Your pocket money)
Personal Expenses;Itdepends on you and your lifestyle! But we advise that you come with an additional $50-$100 a week to cater for your personal needs such as; Phone/internet bill, Transportation, Laundry, Snacks, Entertainment, Drinks and excursions if preferred, and any other things you may wish to buy.
VOLUNTEER REQUIREMENTS:
· You must be over 18yrs
· You must speak some English (you don't need to be fluent)
· A copy of your passport with 6+ months validity
· Placement commitment fee of USD$200
· Criminal Record, Background Check report or Police Statement
· We recommend travel/life personal insurance
· You must commit at least 4 weeks' minimum (longer stays are much appreciated).
· You must be Sociable, Energetic, Positive & Fun!
WHO ARE WE LOOKING FOR?
We accept local and internationals volunteers who are full of enthusiasm, and who enjoy working with people from a different culture background. The minimum age to participate is 18. Candidates must speak English, in order to adapt themselves quickly and to be able to interact with local people.
We need people who possess the willingness to commit themselves to a long-term project, prepared for day-to-day challenges. Also important: our lifestyle is simple; we don't have any luxuries here, beside the luxury of being in the middle of a beautiful natural landscape, and working for a meaningful cause.
We accept local volunteers who can dedicate some hours every week to help us, but in this case they must arrange their own transport to the offices or project site in Mukono.
We need people to help teach at the rural schools, to help with construction and cleaning works, to help at our agriculture farm, social workers, psychologists, educators, specialists in IT, doctors, nurses, drivers, etc. In summary: anyone with goodwill and a good disposition to help and work can be accepted into the program.
I WANT TO VOLUNTEER AND TRAVEL WITH SSAMBA FOUNDATION
If you would like volunteer in Uganda with Ssamba Foundation, our projects need volunteers who can bring new ideas, work with minimal supervision, and have a positive, self-starting attitude.
We do not need just young volunteers, but older people with business skills and experience. We need those who can sort out book-work and apply for grants. Just as these projects try to help all members of society, they need all ages of volunteers to help them function.
Our volunteer in Uganda program helps create sustainable education & development in rural Uganda. The program provides a life-changing opportunity for school and university leavers to spend a few months volunteering in Uganda.
Volunteers directly help in schools, health centers and development projects. Perhaps equally important is the "knowledge exchange": helping people from a remote African community gain a greater understanding of the wider world (and vice versa).
Of course, it is not all hard work; volunteers will get an opportunity for fantastic wildlife safaris and to experience a region few tourists have reached.
GET STARTED WITH YOUR APPLICATION OR CONTACT US:
https://ssamba.org/volunteer-application-form/
Tel| WhatsApp| Signal| Telegram: +256-791-517383
E-mail: ssambafoundation@gmail.com
Website: https://ssamba.org