14 Days Women Empowerment Volunteering Project Uganda
February 5, 2020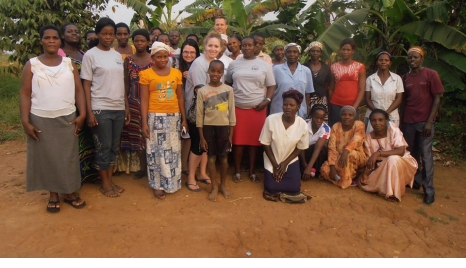 This 14 days volunteering program, will take you to the heart of Uganda where you get involved in meaningful volunteer work. We ask volunteers interested in the Uganda women empowerment volunteer work to commit at least two weeks or more in order to ensure a worthwhile experience for both your hosts in Uganda and yourself. But we accept volunteers from a minimum of 7 days to 12 weeks.
The trip starts and ends in Uganda's capital Kampala. You will be based in Mukono or in a rural based program. Mukono is one of the most relaxed and attractive suburbs, east of Kampala (the capital city of Uganda). Mukono is a great place to stay if you want to explore Uganda's fascinating capital city or the adventure capital- Jinja.
Mukono has her own tourist attractions and you will discover many during your humanitarian service placement with us. These tourist attractions include but not limited to:
Mabira Forest which is famous for forest walks, Picnics, cycling trails, ziplining, over 100 Species of moths and 300 bird species. Mabira forest is also popular for its rich on Flora & Fauna
Lake Victoria - Africa's largest lake and second largest fresh-water lake in the world
Sezibwa River – which is believed by Buganda legend to have been born. The river flows into Lake Kyoga. Sezibwa falls offers beautiful scenery for tourists and nature lovers. The site also has a natural forest reserve which is popular for forest trails and nature walks, bird watching with over 100 bird species and wildlife.
Kalagala Falls- one of the most beautiful, thundering falls and naturally endowed waterfalls in the country. Kalagala Falls are found along the Victoria Nile within Kalagala village, Kangulumira sub-county in Kayunga district (formerly part of Mukono district)
VOLUNTEER WORK IN UGANDA
Day 1-2:Arrival and Orientation
Our Coordinator will arrange a pickup for you from the airport in Entebbe at agreed time and they will drive you to the volunteer home outskirts of Kampala. Orientation and Placement will be done the next day.
On the second day, our Coordinator will give an orientation about the project you will be working on. You will be working with the women empowerment program while learning about the culture and customs of the local Ugandan people.
Day 3-13:Volunteer Work
THE PROGRAM IN MUKONO:
You will be working with our women empowerment program that looks at improving the quality of life for women in Mukono rural and semi-urban communities by providing economic stability.
This program has a number of projects that aim to transform the livelihoods of these poor women through education, economic empowerment and entrepreneurship. You will be working with and helping women aged between 18 and 35 to become economically self-sufficient, providing them with the space and support to develop their business ideas.
You can lead workshops in business skills, IT, administration, financial literacy, people management and customer care. You will be involved in a variety of interesting activities to help the women and girls in the community.
You may be asked to run specialty focused sessions during your time at the project site. You will find the experience extremely rewarding as you build trust and spend time sharing your own experiences with the women and girls, and listening to their own stories.
You might like to develop business plans and small grant proposals and help to design and successfully market handmade products. Whatever your background you can be sure that the guidance, knowledge and enthusiasm you bring to this project will benefit the women for years to come.
You don't need specific experience working with women's groups but a willingness to help where needed, a genuine interest in supporting women in need and being sensitive are some of the attributes you should have.
You will be combining this program with other activities, like visiting local schools, public speaking with youth and children and mentorship sessions in the local communities.
On the weekends you are encouraged to explore the country with friends you make on the program, and our representatives are available to give travel advice and make bookings for you.
Day 14– Good bye party/ Barbecue night
Your friends at the program will organize a party for you and barbecue night to thank you for the service and your contribution.
PROGRAM DETAILS:
Availability: Project opens all year round
Age Limits: Minimum 18yrs or older for solo travelers. (Families and Groups are accepted)
Program Dates: 2nd or 16th of the month
Arrival dates: 1st or 15th of the month
Working Days: Monday – Friday – 5 days a week, 3-5 hours in a day
Weekends: Safaris & Tours arranged at very friendly fees
Accommodation: Volunteer Guest House (Host Family can be arranged for those interested in deeper culture immersion experience)
Meals: Breakfast, lunch and dinner daily
PLACEMENT BOOKING COSTS:
After application process and acceptance into the program, you will be required to pay a placement booking and confirmation administration fee ofUSD$260. This is charged above the program fee quoted which is paid in cash upon arrival to your host country.
The placement booking fee covers:Administration Costs, Placement Booking & Confirmation,Pre-departure support & documentation, 24-hour international HQ back-up
Program Duration Fees:
· 1 week $160
· 2 weeks $260
· 3 weeks $360
· 4 weeks $460
· 5 weeks $560
· 6 weeks $660
· 7 weeks $ 760
· 8 weeks $860
· 9 weeks $ 960
· 10 weeks $1060
· Extra week + $100
The program fee covers the following.
ü Project orientation
ü Accommodation
ü Three meals a day
ü Airport pickup
ü In-country emergency support
The program fees exclude the following: Visas, flights, insurance, airport drop-off and personal expenses.
To Get Started
Fill Volunteer Application Form link below: