About the workproject
We need 2 volunteers
Our hostel name means something that provides enjoyment, to have fun in the northern Thai language or the fun essence of Chiang Mai city. That's why our Hostel offers joyful experience with our activity to everyone as well as the comfortable beds in our well-designed dormitory. We designed this place to be one of the landmark to provide you with the best experience in Chiang Mai, featuring a hammock café, social area, a local Thai restaurant, an unforgettable tour and all amenities you could wish for.

We offer the best experience to everyone who stays with us. We have different kind of dormitory to fit all kind of customer as well as our comfortable hammock in the lobby, which is also the café to enjoy their relaxation and to share the their traveling experience. We consist of 4 dormitory rooms that can accommodate 36 people. We also offer the excursion to explore the coolness of Chiang Mai attractions. Our operational time is from 7.00 am to 11.00 pm. We are seeking for volunteers to help us for at least three weeks.

We are really looking forward to welcoming you as a part of our team. Welcome to Chiang Mai!
My project blog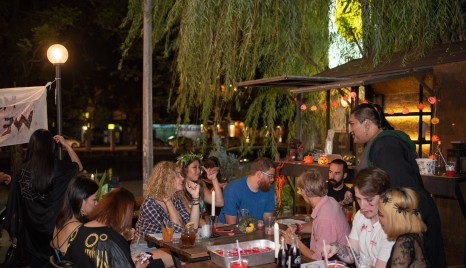 Staying in the center of Chiang Mai and helping us running the activity and enjoying the vibe of Muan Hostel
November 5, 2018
We are looking for cool friends who can assist us running the activity, such as city stroll, pub crawl, etc. The minimum stay of volunteering would be three weeks. The timing is quite flexible, depending on the activity and the busy period of guest and season. If you would like to enjoy the fun, gain the traveling experience and be a part of our team, please feel free to contact us anytime. We are more than welcome to everyone.