Yoga Teacher Training in Rishikesh India
February 2, 2019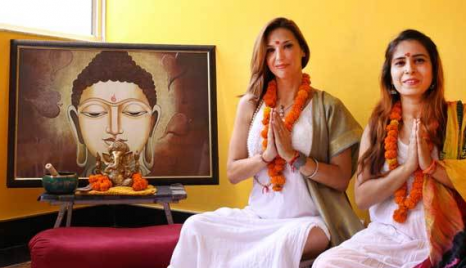 Yoga Teacher Training in India
Yoga Teacher Training Course in Rishikesh, India
Yoga Teacher Training in Indiaas confident teachers with strong and solid teaching skills, ready to start their career in yoga. They develop a unique art of teaching along with a comprehensive understanding of asana, pranayama, shatkarma, alignment, ayurveda, philosophy, anatomy, mudras, mantras and meditation. Our Yoga Alliance registeredYoga Teacher Training in Indiais intensive and enriching for yoga beginners to intermediates. With over 1000 graduates and a decade of teaching experience, our establishedYoga Teacher Training in India Programfulfills the best and highest standards for aspiring yoga teachers.
Read MoreYoga Alliance certified Yoga Teacher Training in Rishikesh, India
Arogya Yoga School is a Yoga Alliance Registered Yoga School (RYS 200, RYS 300 and RYS 500). Arogya Yoga Schoool in India offers excellent and unique Yoga Teacher Training Programs such as theYoga Retreat in Rishikesh India, 200 Hour Yoga Teacher Training in Rishikesh, 300 Hour Yoga Teacher Training in Rishikesh and 500 Hour Yoga Teacher Training in Rishikesh.
Yoga Teacher Training In India
Yoga Alliance Certified Yoga Teacher Training Course in Rishikesh India,200, 300, 500 Hour Hatha and Ashtanga Yoga Teacher Training in India - RYS 200, 300, 500
Our school has designed courses in the most comprehensive and unique way, which empowers you to stand out as an inspired yoga teacher.
What does the course fees include yoga Teacher Training in India?
» Single Accommodation
» Daily nutritious vegetarian meals and herbal tea
» Weekend excursions
» Course materials will be provided (books, yoga mat, cleansing kit)
Principles and Guideline for Yoga Teacher Training in India:
Teaching starts from early in the morning.
Respectful behavior is mandatory at all times on and off the premises.
Respect the rules and regulations Arogya Yoga School.
Course fees are non-refundable.
Before departure fromArogya Yoga School, students must return all books from the library.
Non veg. food, smoking and drinking alcohol are not allowed on theArogya Yoga Schoolpremises.
Trip Advisor Arogya Yoga School:
Facebook:https://www.facebook.com/arogyayogaschool/
Twitter :https://twitter.com/Arogyayogschool
google+ :https://plus.google.com/b/100056857987043415419/100056857987043415419?pageId=100056857987043415419
linkedin:https://www.linkedin.com/in/arogyayoga-school-6a7939136
Instagram:https://www.instagram.com/arogya_yoga_school/